New page turned in 2009…

My parents founded the Fuzeau publishing company in 1974 and for more than 20 years my brother, my sister and myself have been involved in this venture.  Early this year our parents decided to entrust further expansion of the business to us.

I have created a new, independent company, Anne Fuzeau Productions, to deal with the classical section.  This company came into being on March 1st 2009 last, and its collaborators are people who have been working with me for several years.

Over the last 30 years the classical section has produced facsimiles, instrumental editions and other works on music. I would like to take this opportunity of thanking you for your custom and your confidence in the quality of our products.

Our catalogue has recently been enlarged to include miniature instruments, musical figurines and jewellery to appeal to all those who share the universal language of music. Many of you have already reacted enthusiastically to these novelties.

Today, I am very keen to add other new products connected with music: office accessories, decorative objects…which reflect the internationally recognised quality of our editions.

Enjoy a browse on our site!


                                                                                                                                      Anne FUZEAU



RECOGNIZED KNOW-HOW ALL OVER THE WORLD!
Classical music scores exclusive to Anne Fuzeau Productions

Musique Française Classique, Dominantes, Méthodes & Traités, FacsiMusic,
Fac-similés & Enseignement, Esther, Premiers Fac-similés, Mnemosis, Old instruments, ...

Music figurines, Jewels, Miniature instruments, Music accessories..


All items currently in stock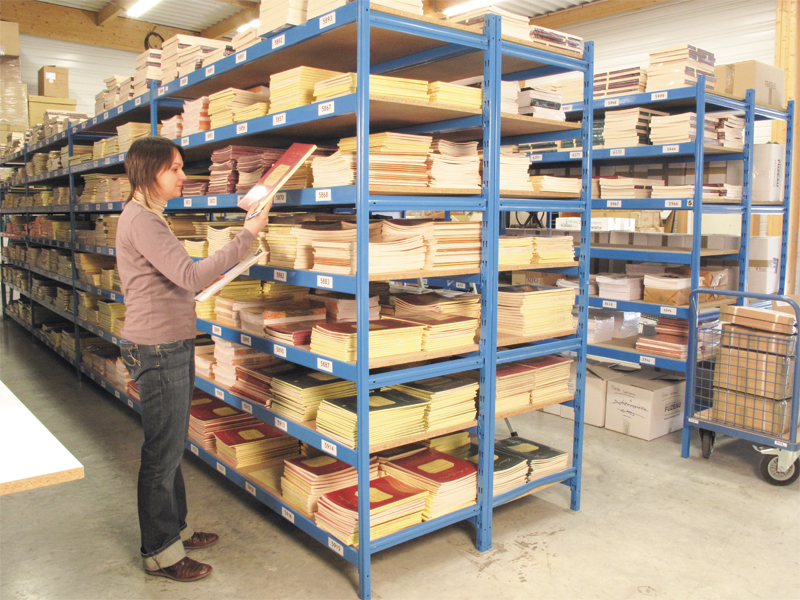 Rapid delivery in France and abroad
Careful packaging


Where is ANNE FUZEAU PRODUCTIONS?


ANNE FUZEAU PRODUCTIONS
2 Bis, Z.A. La Thibaudière
TERVES
79300 BRESSUIRE
France
Tél : +33 (0)5 49 72 91 20
Fax : +33 (0)5 49 72 02 03

info@annefuzeau.com
THE CLASSICAL DEPARTMENT OF EDITIONS FUZEAU


1978
Creation of a series of instrumental scores designed for music schools and conservatories, with considerable emphasis on works by young composers.
Regular additions are made to these collections for chamber music, piano, brass, cello, horn, clarinet, saxophone, guitar, percussion…
Their purpose is to meet the needs of instrumental players in phase with present day artistic aspirations and pedagogical realities.
By 2007 the catalogue included 700 titles by more than 100 composers.

1985
Publication of the first facsimiles – the Musique Française classique collection.
The creation of this collection required a highly-qualified collaborator and a meeting with Jean Saint-Arroman was decisive for this new project. He proposed to Jean-Marc Fuzeau a series of facsimiles of major French classical works from the 16th to the 18th centuries.
The aim was to make available to musicians reproductions of the various sources of a work (original editions, manuscripts, sketches, period copies) as well as the explanations necessary to their comprehension (notation, terminology, bibliography, cultural environment).

1986
First participation at the Frankfurt International Music Trade Fair.

1988
Creation of the Dominantes collection, devoted to major works of Western music from the 16th to the 20th centuries, with original editions published during the composers' lifetime or under their supervision. These editions are completed by musicological studies in three languages.

1996
Creation of our first web site.

1997
Creation of a new facsimile collection, "Méthodes & Traités". This unique collection is devoted to theoretical works. It assembles documentation (methods, treatises, dictionary or encyclopaedia articles) on instruments, song, dance and composition. A total of 450 volumes will provide very complete information on each subject. Publication of these works in facsimile requires highly specialized abilities, in several stages, entrusted to c. 90 collaborators (of French, English, Italian, German, Hungarian, American, Danish, and Russian origins), all of whom are performing musicians.


2000 à 2008
Development of on-line sales
Publication of 420 new titles and creation in 2007 of a new collection: "FACSIMUSIC".